Much Ado About Nothing
Tickets are now available for Bassinaud Players' production of Shakespeare's 'Much Ado About Nothing' here at Bassinaud (15-17th June). Tickets are free and available here.
Arts at Bassinaud
We always intended to place the arts at the heart of Bassinaud, offering space for artists to contemplate and make work, but little did we know that a year later we'd have formed an amateur theatre company, played host to a Paris-based folk/rock band and welcomed audiences in the hundreds.
Artists at Bassinaud
When we bought Bassinaud back in late 2021 our intention was always to create a place where artists from all disciplines could visit, feel inspired and think about their practice. With this in mind we have dedicated one of our cottages, The Studio, as a space for artists to make work.
Bassinaud Players
A chance conversation in December 2021 led to us putting out 'feelers' to see if people living nearby might be interested in coming together to put on a play. The response was overwhelming with more than 30 people turning up on a cold Sunday in January and so Bassinaud Players was born.
Our first production was Shakespeare's 'A Midsummer Night's Dream' performed around and in front of our small grove of trees and on a set at the back of our farmhouse. The audience loved it and within a week some of the cast were getting withdrawal symptoms. So we quickly decided to put on a second production, choosing Alan Ayckbourn's comedy 'Round and Round the Garden'.
Live music at Bassinaud
We also wanted to see and hear live music at Bassinaud and so, when my musician brother visited, we persuaded him to come back in the summer to play for us. That then led to a week-long residence from his Paris-based folk/rock group 'The Downtown Merrylegs', culminating in a live performance of their latest album.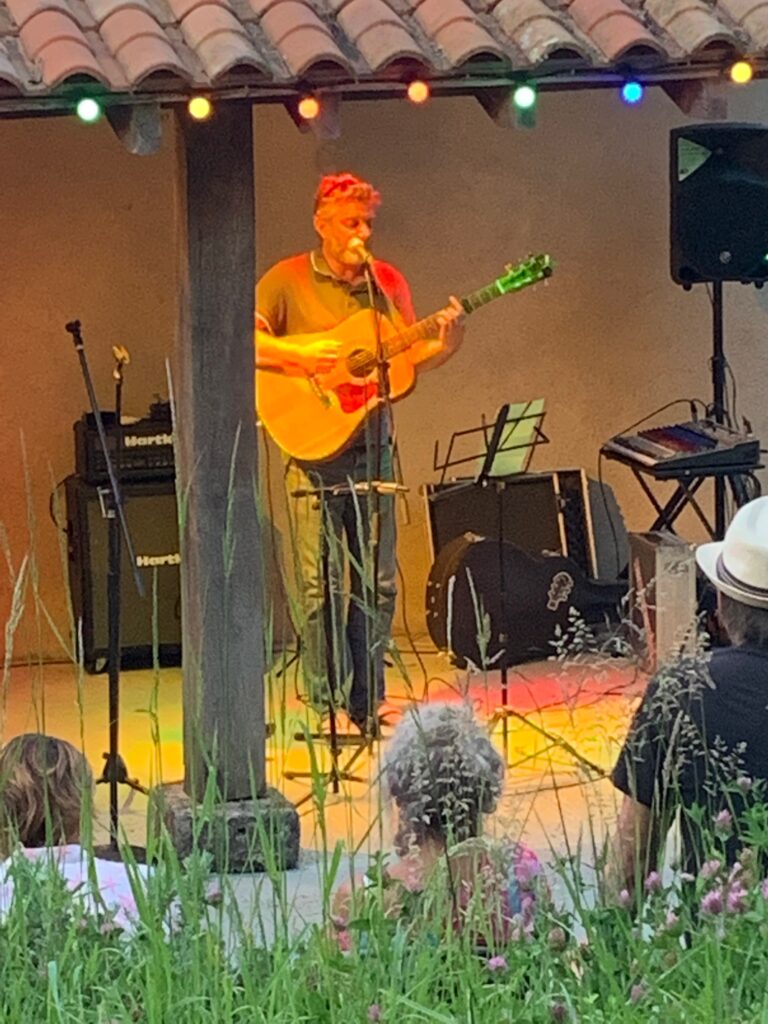 Our plans for 2023 include performances of Shakespeare's 'Much Ado About Nothing' (15-17th June) and Blithe Spirit (21-23rd September) and another group in residence, dates to be confirmed.